Is it Possible to Get a Car Loan with Bad Credit?
With interest rates increasing and household debt on the rise, many people are wondering whether they can still get a car loan with bad credit.
Citing stronger data revealing economic expansion, the Bank of Canada has increased interest rates a total of 1% since July. According to Global News, the increase in interest rates should have a "cooling effect on growth, helping to keep inflation in check." Unfortunately, for those with loans and mortgages with variable rates, they now have to be prepared for larger payments. It was also recently announced by the Business News Network that the ratio of debt to disposable income had climbed to a record high, meaning that for every dollar of income, Canadians have approximately $1.68 of debt.
Since many Canadians now have loans and debt that they many not be able to manage financially, credit scores are likely going to suffer. A recent article by Huffington Post Canada stated that the average credit score for Canadians is around 600, which is considered a subprime score. For many Canadians with a subprime or deep subprime credit score buying a car may seem like an unattainable dream, but in actuality, it is possible to get a car loan with bad credit. If you're young and have no credit or are new to Canada, it is also possible for you to get a car loan. Even if you've become overwhelmed by your debt and have had to file for bankruptcy or a consumer proposal, there is hope; you can still finance your next vehicle through a car loan.
Continue reading to learn more about each type of credit situation and to get some tips about how you can better your chances of obtaining a car loan and get a lower interest rate.
Typical Credit Challenges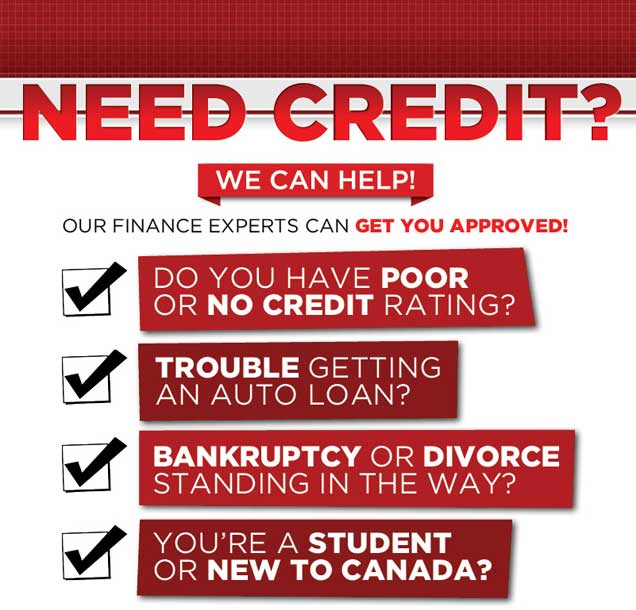 Bad Credit
If your credit falls somewhere between 300 and 600, you're technically classified as deep subprime (300 to 500), subprime (501 to 600) or nonprime (601 to 660). A credit score within these ranges also means that you have what is considered to be bad credit. While hearing that you have bad credit may scare you, it is still possible for you to obtain a car loan. In fact, a recent report from the Financial Consumer Agency of Canada remarked that roughly 25 percent of car loans went to customers who were classified as nonprime, subprime and deep subprime based on their credit score.
No Credit
Are you just starting your undergraduate studies or simply have no credit because you've never had any bills or credit cards in your name? Well, there's no need to panic. Not having prior credit may impact the interest rate on your car loan, but it shouldn't stop you from being able to obtain a car loan. If you fall into this category, try to find an auto loan company that understands your credit issue (or lack thereof). AutoLoans.ca has a team of highly trained individuals ready to answer your credit questions.
New to Canada
Are you new to Canada? First of all, welcome! Now, we know that one of the first big purchases that you'll make after you've settled is a car. Obviously, being new to the country means that you likely have little to no credit. Again, this should not hinder your ability to obtain a car loan. The Royal Bank of Canada recommends that when you're starting the application process, you should have the necessary documents ready. The documents required include your landing papers or permanent residency card, your driver's license, your Social Insurance Number (SIN) and proof that you're making at least $1800/month (proof of employment can be verified using pay stubs from your employer). If you're new to the country and are still unsure about how the car buying process works here, contact us today, and a member of our staff will be happy to answer your questions.
Bankruptcy
The Canadian Government defines bankruptcy as a "legal process that can provide relief to honest but unfortunate individuals who are unable to pay their debts." A bankruptcy may be the only option for some individuals who really have no way to get out of their debt crisis. According to the Financial Consumer Agency of Canada, a bankruptcy will remain on your credit report for six to seven years from the date you're discharged, possibly impacting your ability to secure a vehicle loan in your name. It's important to work with an auto finance company that understands how bankruptcies work and how best to get you approved for a car. Have you declared bankruptcy in the past? Are you worried about your ability to secure a car loan? AutoLoans.ca has a great deal of experience working with customers who have declared bankruptcy, so visit our website to fill out an application or contact us with your bankruptcy questions.
Consumer Proposal
A consumer proposal is different from a bankruptcy in the sense that you do have to pay back some of the debt, without having to sell all of your assets. According to the Government of Canada, a consumer proposal is a legal agreement created by a licensed insolvency trustee, involving you and your creditors. The trustee creates a proposal to be presented to your creditors that outlines the percentage of the debt that both parties (you and the creditors) agree that you will pay back. A consumer proposal typically remains on your credit report for 3 years after you've completely paid off the debts included in the proposal. Many people think that a consumer proposal will prevent them from being able to obtain a car loan, but that's just a myth. As with bankruptcies, it is crucial for you to work with an auto finance company that understands your particular credit challenges. If you've previously filed a consumer proposal and are in the market for your next vehicle, the team at AutoLoans.ca is ready to help you. Fill out an application here today.
Increase your chances of getting a car loan
Here are five things that we think you can do to improve your chances of getting a car loan despite your credit situation:
Know your credit score
The Financial Post reported that a Bank of Montreal survey revealed that approximately 56% of Canadians have never checked their credit score. It's really important that you check your credit score regularly and now, there are websites like creditkarma.ca that will let even let you check your score for free. After you've applied for a car loan, lenders will first complete a credit check and it's never fun to be unpleasantly surprised by the results. If you're aware of your credit score prior to applying for the car loan, you can figure out what your likely classification will be (deep subprime to super prime) and then estimate what your likely interest rate will be. Using this information, you can plan out your monthly budget for the car and find a vehicle that fits comfortably within this budget. Knowing your credit score can help you make a more informed decisions about your next ride.
Pay off outstanding bills
If you know that you'll be applying for a car loan in the near future, do your best to pay off any outstanding bills or make payment arrangements. To appear less risky to lenders, make regular payments on the bills and loans that will appear on your credit report. If they see that you regularly make payments, then they'll be more likely to approve your loan, since you seem less likely to be delinquent on the car loan.
Keep your options open
Just because you may have bad credit, no credit or a bankruptcy or consumer proposal to your name, don't feel obligated to accept the first approval for vehicle financing that you receive. It's your money, so shop around for the best deal, and you may just find another lender willing to offer you a much better interest rate.
Make your vehicle selection wisely
You might be tempted to think that if you select an older model vehicle with higher mileage, you'll be more likely to get approved for your car loan because it's the cheaper route. Well, that's not the case! If you decide on going the cheaper route with an older model vehicle, you may be less likely to get approved and even if you do, you'll probably have a higher interest rate on the loan, since an older vehicle presents a higher risk to the lender. To lenders, an older model vehicle with higher mileage is not considered to be as reliable than a new vehicle; it's more likely to be in need of repairs and if you've already got bad credit, lenders fear that you'll default on the car loan once problems with the car arise. In order to improve your chances of getting a car loan with bad credit or no credit at all, it's best that you opt for a newer model vehicle with lower mileage.
Keep the 20/4/10 rule in mind
According to a June 2017 report from J.D. Power Canada, Canadians are paying roughly $600 monthly towards their car loan. If that seems, like a large amount to be spending monthly on your car loan, we understand. With an average like J.D. Power Canada has presented, it's important to remember that there are some people who are paying much less than $600 per month, while there are others who could be spending over $800 per month on their vehicle loan. If you've already had credit challenges and are mindful of your budget this time around, use the 20/4/10 rule to figure out a payment range that fits within your budget.
Here's the 20/4/10 rule breakdown:
| | |
| --- | --- |
| 20 | Plan to put a 20% down payment on the car |
| 4 | Avoid financing your vehicle for a term longer than 4 years |
| 10 | Make sure that your monthly loan payment plus your insurance payment does not surpass 10% of your gross income for the month |
Your Financial Future is in Your Hands
According to the Royal Bank of Canada, auto loans are the source for approximately 15% of consumer debt. Unfortunately, their research has also found that delinquency rates have gradually been increasing. While it's preferable to have your own vehicle for transportation, make sure that you're financially able to manage your car loan. If your budgeting skills fail and you end up stuck with a car loan that you can't pay off, be aware that lenders will send a repossession crew to pick up your ride. Once the car has been sold at the auction, you will still be responsible for the remainder of the loan amount. Simply put, if you owed $16,500 on your car loan and the car was sold at the auction for $10,500, then you'd still be in the red, owing the bank another $6,000.
Lenders will approve car loans for individuals with credit challenges like we've mentioned here, but they will not lend to those who make a habit of accumulating debt and defaulting on loans. It's important that you budget for your next vehicle loan carefully. Once you're approved and the car is delivered to you, make sure that you make regular payments towards your car loan. By doing this, you'll appear less risky to lenders in the future, your credit score should increase and you should be able to refinance at a lower interest rate within 12 months. For more information about how to improve your chances of getting a bad credit car loan, check out What Credit Score is Needed for a Car? in our Blog section.
Have you been thinking about buying a car lately? Do you follow up these thoughts with, "I'll never get a car loan, my credit is so bad"? Well, worry no more! AutoLoans.ca wants to turn your driving dreams into a reality (despite your credit score), so fill out an application here today and a member of our staff will get in contact with you.