18 Amazing Spots You'll Want to Drive Through Even if You Hate Driving
It's not your commute that's killing you, it's the scenery.
Or lack thereof.
"Baby on board" stickers and the billboard ad for a lawyer that hasn't changed in two years, gets boring. Fast.
But what if you left home and drove elsewhere for a while? Maybe you'd think different about driving.
The sight of natural wonders, whether they're mountain peaks or crystal blue lakes, might give you a never-ending wish to keep on roadtripping.
There are hundreds, maybe thousands of roads around the world that can give you such views. But to keep things simple, we're starting you off with our top three pics from each continent (except for one continent that gets one pick).
North America
Cabot Trail, Nova Scotia, Canada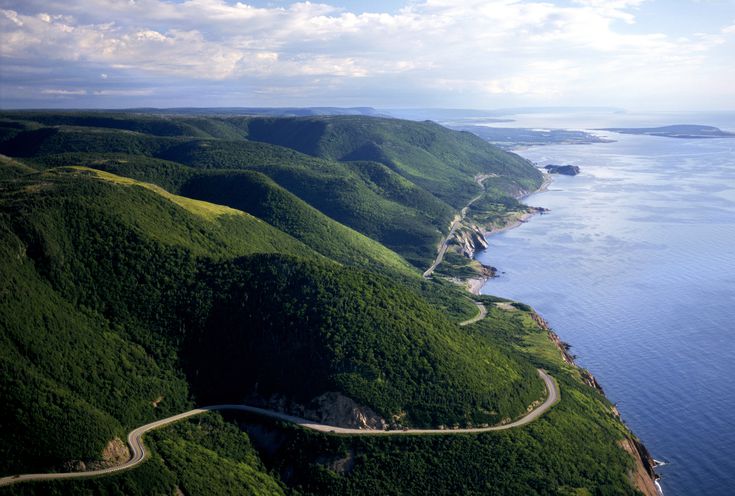 TripSavvy.com
Interesting facts: 298 km (185 mi) long, snakes around Cape Breton Highlands
If you like to see greenery and watery scenery, then you owe it to yourself to cruise along Cabot Trail.
A drive along this route gives you an amazing split-image – the ceaseless blue of the Atlantic Ocean on one side, and steep hills covered with thick boreal forests on the other.
Nearby attractions: Cape Breton Highlands National Park, Skyline Trail, Fortress of Louisbourg National Historic Site
White Rim Road, Utah, U.S.A
Bikepacking.com
Interesting facts: 114.6 km (71.2 mi) long, built in 1950s for mining access to uranium
Located deep in Canyonlands National Park, Utah, White Rim Road is an unpaved trail meant for the outdoorsy, adventurous-type who likes 4x4s and mountain bikes.
But the towering mountains (a.k.a "mesas") with their various mix of brown and red-coloured rock make this a trip with trying nonetheless.
Nearby attractions: Canyonlands Backcountry 4×4 Half-Day Tour, Colorado River Rafting
Overseas Highway, Florida Keys, U.S.A
MNN.com
Interesting facts: 181.9 km (113 mi) long, connects five island stops
The Florida Keys are a destination you visit to forget the world. But the Overseas Highway you take to get there will give you an unforgettable view that you can't ignore.
After all, it's just you, the bridge and the never-ending turquoise sea that stretches farther than your eyes can see (excuse the pun).
Nearby attractions: Key West Island T'Ing: Sail, Snorkel and Kayak Adventure, The Ernest Hemingway Home and Museum, Spiegel Grove
South America
Ruta 40, Andes Mountains, Argentina
The Luxury Travel Expert
Interesting facts: 5,000 km (3,000 mi) long, stretches from southern border of Bolivia down to Rio Gallegos in Argentina
Sandy flatlands, hairpin bends around jagged hills, forests growing near glaciers – you'll see it all along Ruta 40 (or Route 40 in English) in Argentina. Some of the scenery might even look like a landscape that belongs on another planet.
Nearby attractions: Patagonia, La Cueva de las Manos, Talampaya
Salar De Uyuni, Bolivia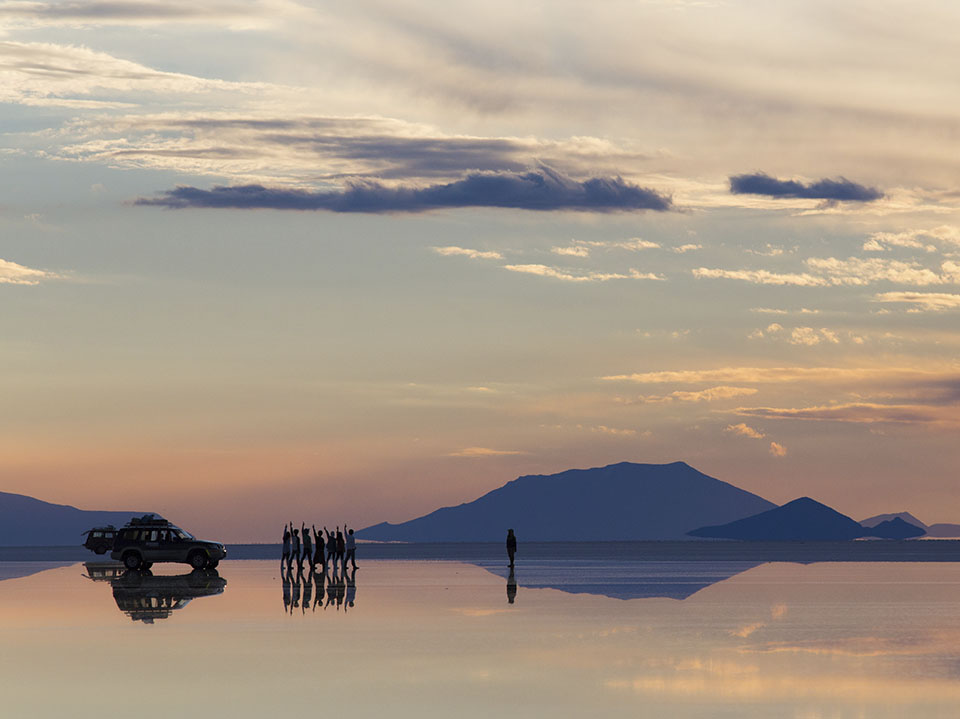 gouyuni.com
Interesting facts: 10,582 sq. km (4,086 sq. mi), world's largest salt flat, rich in lithium
What you see above is not an optical illusion, and the car and the people in this photo aren't anywhere near water. That's solid ground.
The Salar De Uyuni is the world's largest salt flat, and also appropriately known as the world's largest natural mirror due to its glossy and glassy surface.
Nearby attractions: Monument to the Dakar Rally, Train Cemetery, Night tours
Carretera Austral, Chile
Breaking Trails
Interesting facts: 1,240 km (770 mi) long, built in 1976 under regime of dictator Augusto Pinochet
A cruise along any part of the Carretera Austral in Chile will resemble a drive would on Ruta 40 in Argentina.
You'll come across mountains, lakes and glaciers, but this route comes with some unique land formations such as marble caves.
Nearby attractions: Camino al Volcan, Sky Costanera
Europe
Atrani, Amalfi Coast, Italy
Robertharding
Interesting facts: Consists of several towns including Atrani, Amalfi, Tramonti, Furore and Positano
Why drive in Italy when you've got the Venice canals, you ask?
Because, if you only stay in Venice, you'd miss out on those thrilling, hairpin bends overlooking the steep cliffs that drop off into the sparkling Mediterranean sea.
With that said, you'd better be a great driver or be the passenger of a great driver here.
Nearby attractions: Duomo di Sant'Andrea, Amalfi Musical
The Atlantic Road, Norway
Exviking
Interesting facts: 8.3 km (5.2 mi) long, built only in 1989, highway's original purpose was for a railway
That's a real bridge by the way, in case you're wondering.
It's the Storseisundet Bridge, one of eight along Norway's Atlantic road, a series of causeways and viaducts that gives drivers an incredible look of the Scandinavian landscape.
They include a panoramic view of the Norwegian Sea, the mountains of the Romsdal peninsula and the islands the highway sits on.
Nearby attractions: Sveggvika Dive Resort, Storseisundet Bridge, Eldhusoya Island
Transfăgărășan, Romania
Amusing Planet
Interesting facts: 90 km (60 mi) long, 2,000 m (6,600 ft) high, built in the 1970s for military usage, closes in winter due to ice risks
This route is a wickedly windy, two-lane highway woven into the steep foothills of Romania's Carpathian Mountains.
Although its twists and turns are at times risky, road and driving enthusiasts have listed the Transfăgărășan as one of the world's best roads to drive on.
Nearby attractions: Transfăgărășan Highway Tour, Dracula's Fortress Poienari from Bucharest
Africa
Chapman's Peak Drive, Cape Town, South Africa
Berg and Beach
Interesting facts: 8.8 km (5.5 mi) long, first opened in 1915 and revamped in the 1990s
Hailed as one of the most beautiful scenic routes in the world, Chapman's Peak Drive winds around the western side of Cape Peninsula in South Africa.
You can expect breathtaking views of the Atlantic ocean out one window, and vertical layers of sandstone rock out the other window.
Nearby attractions: Sea Kayaking and Cape Point Private Tour, Cape Town City Sightseeing, Noordhoek Beach
Tiz n'Tichka Pass, Dadès Gorges, Morocco
Panorama Eco
Interesting facts: Reaches a height of 2,260 m (7,415 ft) in the Atlas Mountains, built in 1936 by the French for military use, connects cities of Marrakesh and Ouarzazate
A tricky-to-pronounce and winding laneway, the Tizi n'Tichka Pass in Morocco gives travelers a look at the vista that is the Atlas Mountains.
Expect to see villages on slopes, a landscape pockmarked with jagged peaks and if there at the right time, desert sand covered with snow.
Nearby attractions: Kasbah du Pacha el Glaoui, Marrakech to Ouarzazate day trip, Erg Chigaga Dunes 2-day private tour
Sandwich Harbour, Namibia
Mola Mola Safaris
Interesting Facts: 4.2 km (2.6 mi) wide, 4 km (2.5 mi) long, was once a popular site for its fishing and whaling activity
It's not a road per se, neither a place to buy the perfect BLT (despite the name), but Sandwich Harbour (a.ka. Sandwich Bay) is unforgettable with its butter-like sand dunes which rest next to a turquoise tidal lagoon.
Just a note here: at times, the tide gets really high, and tours of the bay close until the waters recede.
Nearby attractions: 4×4 driving tours, Catamaran Charters, Walvis Bay Waterfront
Asia
The Karakoram Highway, China to Pakistan
Lizzie Meets World
Interesting facts: 1,300 km (800 mi) long, reaches an elevation of 4,714 m (15,466 ft), called the Eighth Wonder of the World
A drive along the Karakoram highway takes you through the Karakoram mountain ranges, which serves as a border between China, Pakistan and India.
Along the way, you'll see a strange yet beautiful blend of black and brown rock, topped off with snow-capped peaks.
Some of the world's tallest mountains loom around this highway such as Mt. K2, the world's second highest mountain, which you could actually get to see.
Nearby attractions (Pakistan): Badshahi Mosque, Margalla Hills
Nearby attractions (China): 4-night Kashgar Tour of Xinjian, Kashgar City
Jebel Hafeet Mountain Road, United Arab Emirates
Forbes
Interesting facts: 11.7 km (7.3 mi) long, reaches a height of 1,200 m (3,900 ft), ends at royalty-owned hotel and palace
This highway gets its name from the mountain it sits on – Jebel Hafeet. It's a three-lane roadway with 60 bends, and driving along this route gives you a sweeping view of the UAE and Oman, not to mention layers of fossilized rock on the mountain.
Nearby attractions: Al Ain Tour from Abu Dhabi, Al Ain Garden City Tour From Dubai
Bandai-Azuma Skyline, Japan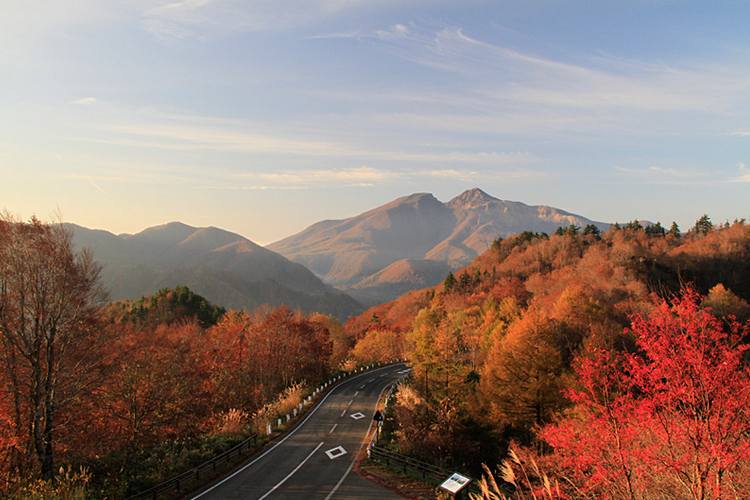 Urabandai
Interesting facts: 28.7 km (17.8 mi) long, opened in 1959 as a scenic route for tourists to see Azuma Mountains, toll-free as of July 2013
This was a tough choice because Japan has plenty of great driving experiences, but a trip along the Bandai-Azuma Skyline stands out.
Mountain peaks fill the background and if you visit here in the autumn, you'll see an explosion of bright red and orange and yellow as the leaves change colours.
Nearby attractions: Hanamiyama Park, Fudosawa Bridge/Tsubakurodani Valley
Australia & Oceania
Grand Pacific Drive, Australia
Grand Pacific Drive
Interesting facts: 140 km (87 mi) long, stretches along Australia's eastern seaboard from Sydney and Wollongong to Nowra
This leisurely drive will give you a refreshing view of the endless, wave-churning pacific ocean on side and steep grassy cliffs on the other.
Like some of the routes shown earlier, this Grand Pacific Drive is perfect for those who love both green and watery surroundings.
Nearby attractions: AST Surf School, Skydive Sydney-Wollongong
Flinders Ranges, South Australia, Australia
Traveller
Interesting facts: Home to Adnyamathanha peoples, contains fossils that are 600 million years old
Flinder's Ranges is actually a mountain range – not a road in itself – but it is a very lovely landscape you should visit if you plan to go to Australia.
You'll see it all here – bouncing kangaroos, historic aboriginal sites and night skies painted with stars. Few places on Earth offer the scenery that Flinder's Ranges does.
Nearby attractions: Flinder's Ranges National Park, Pichi Richi Railway, Brachina Gorge Geological Trail
The Forgotten World Highway, New Zealand
Go 4 Sites
Interesting facts: 148 km (92 mi) long, a.k.a New Zealand State Highway 43
Lord of the Rings' fans will probably recognize this landscape (since filming for the trilogy took place in New Zealand). The Forgotten Highway is a meandering roadway that offers views of mountain peaks, grassy plains and dense forests for the three hours needed to complete the route.
Nearby attractions: Eastern Taranaki Experience, Three Sisters, Stoney Oaks Wildlife Park
Bonus: South Pole Traverse, Antarctica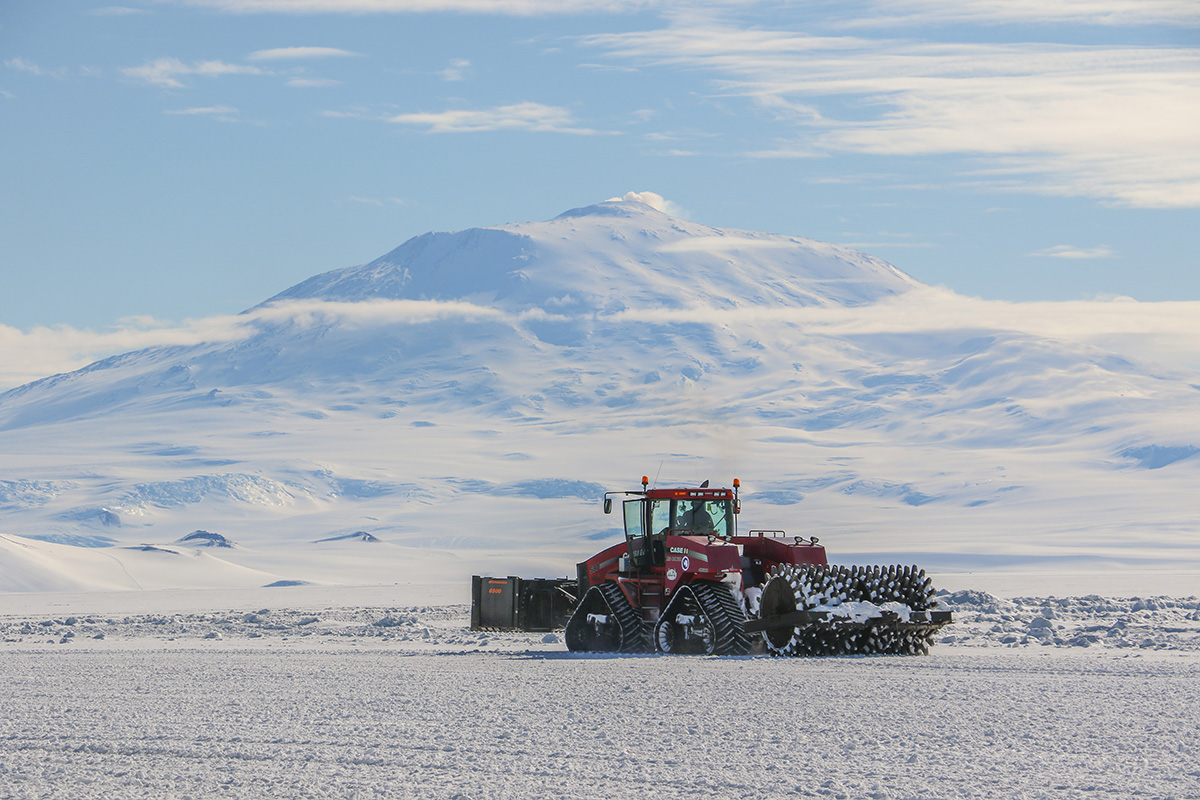 Octane Press
Interesting facts: 1,601 km (995 mi) long compact snow highway, unpaved route marked by flags
Antarctica is not a place for everyone as it is very far, very costly and very cold. It is also tends to be reserved for those with a purpose to serve; think researchers, scientists or even artists.
With that said, if you can take a trip to Antarctica, and ride on the South Pole Traverse, you'll see a vast landscape of snow-capped "badlands" and mountain peaks.
With no trees or lakes – just snow and rock – it's a one-of-a-kind place that a lucky few get to visit.
Not-so-nearby attractions: Island Sky Cruises, Fly and Cruise – Hebridean Sky, National Geographic Explorer
The Road is Your Oyster
So if you're sick of driving, ask yourself, is it driving that you're sick of or just the lack of new scenery? It's quite likely to be the latter.
If it's a lack of new scenery that's bogging you down, it's time to take a vacation and ultimately, it's time to drive on a new road.
Whether it's somewhere familiar or somewhere new, there's a new road out there waiting for you to explore it.
And if you find yourself on the right one, you might realize that your driving experience is whatever you make it.