10 Rappers And Their Luxury Cars
The world of hip hop and rap is full of the finer things in life: magnums of champagne, the finest designer labels, and Rolex watches dripping in gold. One thing that no rapper would ever be caught without is an ultra luxury car. These status symbols feature heavily in many tracks, with brands like Lamborghini and Bugatti being name dropped regularly. There are hundreds of over-the-top rides owned by the rapping elite, but we've narrowed it down to our top 10 favourite just for this list. When it comes to luxury cars, no one does it better than rappers!
Kanye West – Lamborghini Aventador
The rapper synonymous with controversy and fame, Kanye West is one of the largest and most influential artists in the industry. Such a major figure in the rap game needs a set of wheels as outrageous as his personality, and "Yeezy" definitely delivers with his matte black Lamborghini Aventador. This absolute behemoth of design and power was reportedly a gift from West's wife, Kim Kardashian, and is estimated to have cost an astonishing CAD$970,000. Clearly comfortable in the world of luxury cars, West had the car painted matte black to ooze opulence and can be seen driving around Calabasas in Los Angeles in between recording albums.
Featuring luxurious interior details like hand-stitched Italian leather and high definition LCD screens, the Aventador is also no slouch in the performance department. With a top speed of 230 km/h and able to accelerate from 0 to 100 kms in 2.9 seconds, this Lamborghini offers incredible power in an impeccably designed package. West even references the Aventador's predecessor, the Murcielago, in his song "Mercy" showing his affinity for the italian car maker.
Jay Z – Pagani Zonda Roadster
A close friend and collaborator of Mr. West's, Brooklyn born Jay Z is one of the most successful recording artists of all time, rap or otherwise. Not content to coast on his 100 million record sales and 21 Grammys, Jay Z is also an avid investor and brand ambassador, which has allowed him to amass a staggering CAD$1 billion personal fortune. Like many celebrities, Jay Z is a passionate car collector, and one of his most prized luxury cars would have to be his incredibly rare Pagani Zonda Roadster. Whilst not as widely known as other Italian carmakers, the Pagani Zonda made a name for itself with its distinctive insect-like design and extremely limited production run – only 25 were ever made!
Costing an astronomical CAD$2.5 million, the ultracar has a top speed of 350 km/h and is constructed of high tech carbon-titanium fibre. This allows the car to be relatively light whilst maintaining incredible performance and meeting regulatory safety standards. We're sure Jay Z and his equally famous wife, Beyonce, put the car through its paces through the Los Angeles hills!
Iggy Azalea – Ferrari 458 Italia
Coming in swinging for the female rappers of the world, Australian star Iggy Azalea has burst onto the rap scene over the past several years. Coming from a quiet country town on Australia's Central Coast, Azalea moved to the States when she was 16 and pursued her dream of becoming a rap star. Fast forward a few years and she is now one of the hottest names in the industry, collaborating with huge names like Jennifer Lopez, T.I. and Rita Ora.
The 28 year old artist has opted for a more understated whip to get her around town, but its still very much a high end luxury car. Azalea's ride of choice is a glossy white Ferrari 458 Italia, 2009's Supercar of the Year with a starting price of CAD$300,000. The Italia can certainly hold its own with more expensive supercars, with a top speed of 340 km/h and a 0 to 100 km of 2.9 seconds. A perfect car for a small town country girl making it in the rap game!
Wyclef Jean – McLaren F1
Likely the most expensive luxury car on our list, Haitian born rapper Wyclef Jean definitely knows how to make a statement. First achieving fame with hip hop group the Fugees, Jean went on to win 3 Grammys and work with international powerhouses like Avicii, Shakira and Young Thug. Wyclef's most impressive car out of his collection would have to be his enviable McLaren F1, considered by many to be the most iconic supercar of the modern era.
The McLaren F1 has a top speed of 385 km/h, making it one of the fastest production vehicles ever made. Only 106 of these sleek vehicles were ever produced and took 3.5 months each to make, making them extremely rare in the luxury car world. Because of their rarity and legendary performance, McLaren F1s can easily be sold for over CAD$13 million. Jean joins the exclusive club of other celebrity McLaren F1 owners including Ralph Lauren, Jay Leno and Elon Musk.
Nicki Minaj – Bentley Continental GT
Arguably the biggest female rapper in the industry at the moment, Nicki Minaj is known for her iconic outfits and obsession with all things Barbie. The 35 year old Trinidadian has sold more than 20 million singles and 5 million albums, making her one of the most successful musical artists of all time. Having come from humble beginnings, Minaj now definitely has the cash to splash out on a luxury car or three, and her signature ride is her Barbie pink Bentley Continental GT.
The first car released by the British carmaker following its acquisition by Volkswagen AG, the Bentley Continental GT is one of the most recognisable models for the brand. Instantly exuding an air of class and sophistication, the luxury supercar can hit a top speed of 315 km/h, making it not just a pretty face. With a base price of CAD$260,000 the Bentley Continental GT is only for the extremely wealthy, but Minaj has put her twist on it to make it an instant showstopper.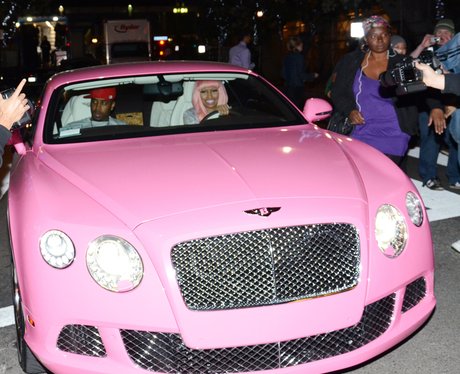 Birdman – Maybach 62 Landaulet
Bryan Christopher Williams, known more widely by his stage name Birdman, has made a name for himself as one of the largest producers of rap music in the industry. Born in 1969, Birdman became a successful rapper in his own right as part of the Big Tymers rap group. However, his real claim to fame began when he co-founded the immensely successful Cash Money Records label in 1991. Cash Money has had practically every major rap player in the game on its roster, from Drake to Lil' Wayne. It's no surprise then that Birdman is able to drive around in our next luxury car – a Maybach 62 Landaulet.
The Maybach brand is consistently voted the top luxury brand in the world, and their incredible attention to detail and aesthetics makes it clear why. Featuring ultra luxurious extras like hand-stitched leather interiors, a Bose sound system, power partition, and gold-flecked granite inserts, it's clear that owning a Maybach Landaulet is a serious status symbol. This particular model is one of only 8 ever made, making its CAD$1.75 million price tag almost seem reasonable.
Flo Rida – Bugatti Veyron
Flo Rida, born Tramar Lacel Dillard, has created some of the most viral rap hits of the past decade including "Right Round", "Low" and "Wild Ones". Having sold over 80 million records makes Flo Rida officially one of the best-selling musical artists of all time and certainly explains his outrageous choice of vehicle. We are of course talking about his Bugatti Veyron which he had completely wrapped in gold, earning it the nickname "Golden Gatti".
The Bugatti Veyron shoots all other ultracars out of the water when it comes to sheer speed. It currently holds the world record for the fastest street-legal production car in the world, with a top speed of 431 km/h. This insane level of performance naturally comes at a cost – the base price is a whopping CAD$2.2 million. Not happy with simply the fastest car in the world, Flo Rida had his ride wrapped completely in gold, complete with 24 karat gold rims. That should certainly make him stand out when he's cruising the glitzy streets of Miami!
Drake – Rolls Royce Phantom Celestial Coupe
Canada's very own rap superstar, Drake, is a record-smashing juggernaut. Currently holding the title for most charted songs for a solo artist on the Billboard 100, the most simultaneously charted Hot 100 songs in a single week and the most time spent on the Hot 100, everything Drake touches seems to turn to gold. Starting out as an actor in Degrassi High, Drake went on to become the centre of the largest bidding war in record label history until he was signed by Young Money Records in 2009. Being one of the largest rap stars in the world means you need a luxury car to suit, and Drake's customer Rolls Royce Phantom Celestial Coupe certainly lives up to that.
Synonymous with luxury for over 100 years, Rolls Royce has made a name for itself as being one of the leading ultra luxury car brands in the world. The Rolls Royce Phantom Celestial Coupe is almost entirely handmade, and features all of the bells and whistles a rapping elite would come to expect. The car even has a custom fibre optic roof that gives the appearance of a starry night sky, hence the Celestial moniker. Drake actually got pulled over by the Toronto Police when he first picked up his new ride, as he had forgotten to put a license plate on it!
Ja Rule – Lime Green Lamborghini Murcielago
A stalwart presence in the early 2000s hip hop scene, Ja Rule has worked with huge names including Jennifer Lopez, Lil' Wayne and Ashanti. Despite several legal issues and a 2 year prison sentence, Ja Rule remains a highly successful artist with plenty of number one singles under his belt. Embracing the rapper trend of riding around in Lamborghinis, Ja Rule's luxury car of choice is his lime green Lamborghini Murcielago.
Often referred to as "Mercy" in rap songs, the Murcielago has a top speed of up to 340 km/h and an acceleration of 0 to 100 in 3 seconds. Named after a legendary bull that survived 24 sword strokes in the bullfighting pit, Ja Rule's lime green Murcielago is rumoured to have cost over CAD$710,000.
Missy Elliott – Lamborghini Diablo
The undisputed Queen of rap, Missy Elliott is best-selling female rapper in history according to Billboard. Elliott rose to fame in the early 1990s as part of several rap groups, but truly made a name for herself when she launched her solo career in 1997 with her album Supa Dupa Fly. For such rapping royalty, only the best will do, and Elliott has remained loyal to the Lamborghini brand with her favourite Lamborghini Diablo ride getting her around town.
Seen as the car to own in the 90s, the Lamborghini may not quite have the performance chops of the Bugatti or its younger siblings, but its distinctive design and legendary luxury car status suit the Queen of Rap perfectly. Due to its reasonably limited production run, a Diablo is now worth around CAD$510,000 making it a classic car worthy of any collector's envy. Ever the performer, Elliott had the car custom painted a royal shade of purple guaranteed to let everyone know the Queen is coming through.
Are you looking for your own car but have a bad or no credit history? Contact Auto Loans today to get into your new car!